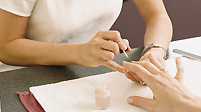 In today's busy world,
it is more important than ever to create some time for yourself, to indulge yourself.
Our objective is to provide an experience so enjoyable and relaxing that it not only leaves you wanting to come back, but will inspire you to share our location with your friends.
Affordable luxury ... that's what the Nails by Leha experience is all about. So come and indulge yourself. You deserve it. MasterCard, Visa, American Express and most major credit cards accepted.
We strive to provide our customers with quality services based on these standards
Faith: We have faith that every moment you spend with us will be memorable
Aspiration: We aspire to be the best at what we do
Sincerity: We are sincere about our customer's needs
Devotion: We are devoted to provide exceptional service
Surrender: We hope you surrender yourself to the serenity and relaxation of our spa


Sanitation is
important to you and it is just as important to us.
Nails by Leha strongly believes in the welfare of our customers.
Each customer service is done with a new nail file, a new buffer and a new pumice stone. These implements are thrown away after use and never reused on another customer.


Our heat and chemical sterilization system, which is a hospital and tuberculocidal disinfectant, provides broad spectrum protection: bactericidal, fungicidal, virucidal, staphylocidal, pseudomonacidal, tuberculocidal and prevents cross contamination from all metal salon instruments.
Our spa tub is cleaned with a hospital grade disinfectant cleaner after every client and again nightly. Our facility reflects our commitment to cleanliness in all areas.